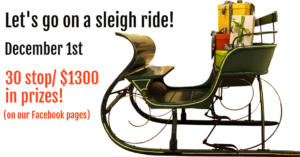 Hey! Let's go on a sleigh ride!!
Join me and your favorite mystery authors on a full day of giveaways totaling over $1,300. in prizes on December 1st!
How?
Visit my Facebook page (www.facebook.com/VictoriaGilbertMysteryAuthor/ ) on December 1st and start from there! You'll visit 30 authors by hopping from page to page.
Grab a blanket and cozy up — it's going to be fun.
Share with your friends! The more, the merrier!