Book Three – PAST DUE FOR MURDER — is available in hardback, eBook, and audiobook formats everywhere books are sold. 
Published by Crooked Lane Books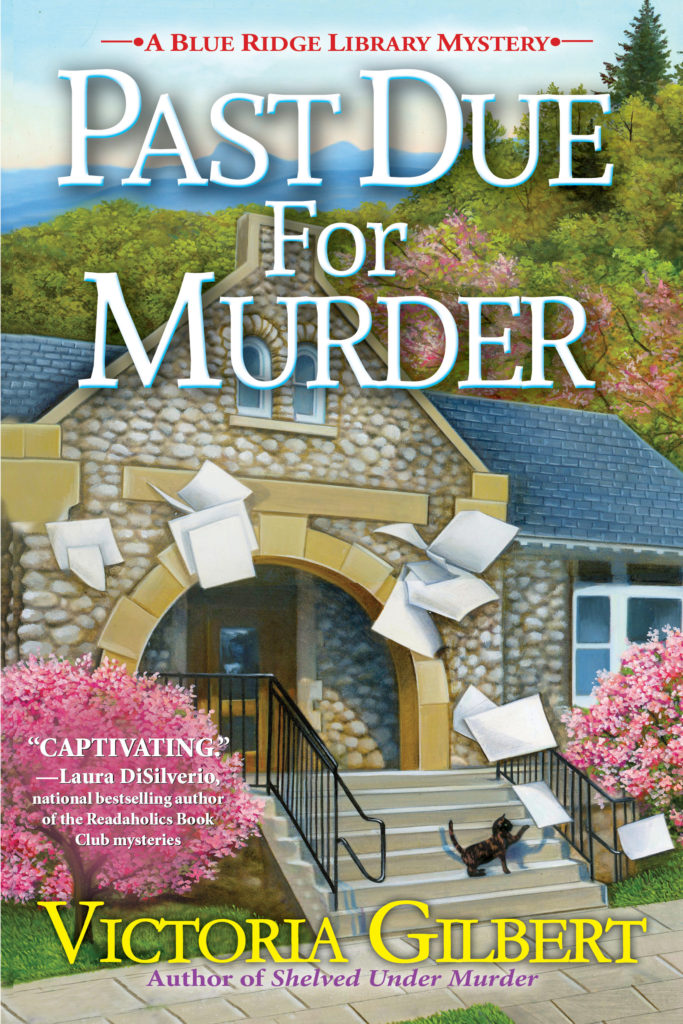 Has a curse fallen on the small town of Taylorsford, Virginia? After a young woman goes missing during a spring bonfire, library director Amy Webber must wade through the web of lies only to find a truth that she may not want to untangle.
Spring has sprung in quaint Taylorsford, Virginia, and the mayor has revived the town's long-defunct May Day celebration to boost tourism. As part of the festivities, library director Amy Webber is helping to organize a research project and presentation by a local folklore expert. All seems well at first—but spring takes on a sudden chill when a university student inexplicably vanishes during a bonfire.
The local police cast a wide net to find the missing woman, but in a shocking turn of events, Amy's swoon-worthy neighbor Richard Muir becomes a person of interest in the case. Not only is Richard the woman's dance instructor, he also doesn't have an alibi for the night the student vanished—or at least not one he'll divulge, even to Amy.
When the missing student is finally discovered lost in the mountains, with no memory of recent events—and a dead body lying nearby—an already disturbing mystery takes on a sinister new hue. Blessed with her innate curiosity and a librarian's gift for research, Amy may be the only one who can learn the truth in Past Due for Murder, Victoria Gilbert's third charming Blue Ridge Library mystery.
"Gilbert weaves a well-paced, engaging story with strong characters… Blue Ridge Mystery fans will love reconnecting with Amy and her Taylorsford compatriots."
— NY Journal of Books
"The skillfully written novel ties together storylines with timely plots that reveal tragedies that often continue through present day. An eminently satisfying and warm-hearted conclusion will leave readers anticipating the future of Amy and her friends, and making this library-loving mystery series completely irresistible."
— Kings River Life Magazine
"Readers who enjoy a splash of the local history of the Blue Ridge Mountains as well as current events, will find this an interesting read, and I can envision it as a good selection for a local book club. I look forward to the next book and highly recommend you read not only this one, but the two before it."
– MyShelf
With great characters and plenty of twists and turns, this story takes us on quite a ride. The blend of folklore with a smidgen of fairies and magic was a delight.
— Escape With Dollycas Into a Good Book
 
I loved the Appalachian setting (it's in my blood), the folklore, and the library too. Aunt Lydia continues to be a fave as well and – even though I don't like cats – the one in this book is too adorable not to love.
— Reading is My Superpower
This is a fun cozy series. I have enjoyed every moment and look forward to more!
— My Reading Journeys
PAST DUE FOR MURDER explores self-doubt and trust while asking how much we really know about those we love, or loved. The end of the novel is uplifting and makes me look forward to the next installment.
– Cozy Up With Kathy
"This series continues to build the layers of a fascinating community that I look forward to returning to each time. While definitely a solid selection for fans of bookish cozies, the more mature and thought-provoking mystery elements, plot points, and themes add dimension and appeal that makes this series a cut above the standard cozy and highly recommended!"
— That's What She's Reading