Book Four — BOUND FOR MURDER is available from Crooked Lane Books in hardback, eBook, and audio-book.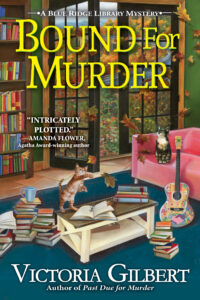 Blue Ridge library director Amy Webber learns it wasn't all peace and love among the "flower children" when a corpse is unearthed on the grounds of a 1960s commune.
Taylorsford Public Library director Amy Webber's friend "Sunny" Fields is running for mayor. But nothing puts a damper on a campaign like an actual skeleton in a candidate's closet. Sunny's grandparents ran a commune back in the 1960s on their organic farm. But these former hippies face criminal charges when human remains are found in their fields–and a forensic examination reveals that the death was neither natural nor accidental.
With Sunny's mayoral hopes fading, Amy sets her wedding plans aside, says "not yet" to the dress, and uses her research skills to clear her best friend's family. Any of the now-elderly commune members could have been the culprit. As former hippies perish one by one, Amy and her friends Richard, Aunt Lydia, and Sunny pursue every lead. But if Amy can't find whoever killed these "flower children," someone may soon be placing flowers on her grave
"The plot builds to a complex but satisfying solution. Cozy fans will hope Amy will return soon."
— Publishers Weekly
"As with Cleo Coyle's 'Coffeehouse' mysteries, Gilbert's library mysteries…are darker than many cozies. The well-developed characters and complex issues will appeal to fans of Jenn McKinlay and Miranda James."
— Library Journal
"Another deftly crafted mystery buff's delight by a true master of the genre, "Bound for Murder" is another unreservedly recommended addition to author Victoria Gilbert's 'Blue Ridge Library Mystery' series."
— Midwest Book Review
"Victoria Gilbert writes entrancing and engrossing stories that pull you win and leave you wanting more!"
— A Wytch's Book Review Blog
"Bound for Murder is the fourth book in the Blue Ridge Library Mystery series. I've read them all and they just keep getting better. Maybe it is because the characters feel like old friends."
— Diane Reviews Books
"Bound for Murder is a charming cozy mystery with a dredging disaster, misplaced persons, a charismatic journalist, a hippie homicide, campaign commotion, and revealing research."
— The Avid Reader
"Bound for Murder by Victoria Gilbert is an excellent story with a couple of murders that keep you guessing."
— Baroness' Book Trove
"An intricately plotted mystery with lots of red herrings and subtle clues, BOUND FOR MURDER shows that past decisions can not only impact you, but those around you. Who knew research could get you into so much trouble?"
— Cozy Up With Kathy blog
"Bound For Murder was a great clean cozy mystery with wonderful characters, it was also filled with a few twists and turns to throw you off and keep you reading."
— eBook Addicts blog
"This is my first book for Victoria Gilbert, but any author who can write a mystery series that reads so well as a stand-alone, with just the right amount of clues and the occasional back-to-the-drawing-board red herring, and can work the word verisimilitude into a blog post is my kind of author."
–– I Read What You Write blog