OUT NOW!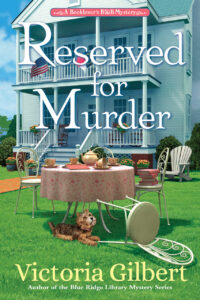 Book Two in the Booklover's B&B Series
Release Date: June 8, 2021
More bloodshed at a bibliophiles' bed-and-breakfast as Victoria Gilbert's delightful series continues.
Meeting your favorite author in the flesh can be the chance of a lifetime. But for one unlucky fan, her plum place in line at a book signing will lead to her untimely demise.
STARRED REVIEW:  "Well-rounded characters match the finely crafted plot. Cozy fans will want to see a lot more of Charlotte and friends." — Publishers Weekly 
"Plenty of mysterious circumstances and quirky characters are spiced with a romance that hints at future complications." — Kirkus Reviews
"Reserved For Murder moves at a steady pace and is an excellent choice for a beach read or an airplane ride. It is easy to put down and pick back up without losing track of the storyline or confusing the characters. Any reader who prefers cozy fiction will likely find this a well-written, enjoyable book and if they like series reads, this offers them the opportunity to experience the books from the beginning and follow along as new books are written." — Mystery and Suspense Magazine
"Plenty of background on books and publishing combine with the agreeable small-town ambience and the sultry southern setting to frame this satisfying cozy." — Booklist
"This was exactly the kind of mystery I want to read as I while away a few hours relaxing in the garden. It reminded me of the feeling I get when reading an Agatha Christie. It was the perfect small-town mystery, with enough twists and turns and a myriad of suspects, to keep my brain trying to work out whodunnit." — Kitty Cat's Book Review Blog
COMING SOON!
Book Six in the Blue Ridge Library Mystery Series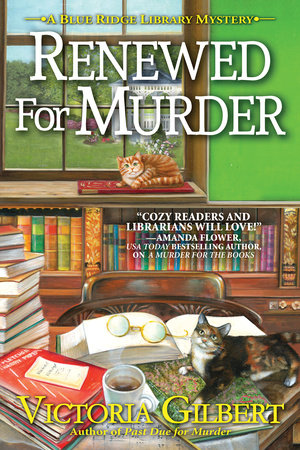 Release date: Dec. 7, 2021
Librarian Amy Webber dances with death in critically acclaimed author Victoria Gilbert's sixth Blue Ridge Library mystery.
August in Taylorsford, Virginia finds library director Amy Webber and her new husband, dancer Richard Muir, settling into married life–and a new project. Richard and his dance partner, Karla, are choreographing a suite based on folk music and folk tales, while Amy scours the library's resources to supply background information on the dance's source material. But the mellifluous music comes to a jarring halt when an unknown woman's body turns up in Zelda Shoemaker's backyard gazebo.
Chief Deputy Brad Tucker puts Zelda at the top of his suspect list, thanks to a blackmail letter he finds in the dead woman's pocket. Zelda's best friend, Amy's aunt Lydia Talbot, begs Amy to use her research skills to clear Zelda's name. But the task is confounded by Zelda's very out-of-character refusal to reveal why the victim might have blackmailed her.
Complicating matters further, Amy unearths records of a long-ago tragedy that casts doubt on Zelda's innocence. She enlists hubby Richard, Aunt Lydia, art dealer Kurt Kendrick, Mayor Sunny Fields, and sundry other quirky townsfolk in a quest to exonerate Zelda. But will revealing the truth end up forcing Zelda to spend the rest of her life behind bars?
Meanwhile, the killer is still out there. Amy had better be fleet on her feet, because death is on her dance card, and her number may be up.