OUT NOW!
DEATH IN THE MARGINS
Book 7 in the Blue Ridge Library Mystery series
Published by Crooked Lane Books on Dec. 6, 2022.
Buy: Links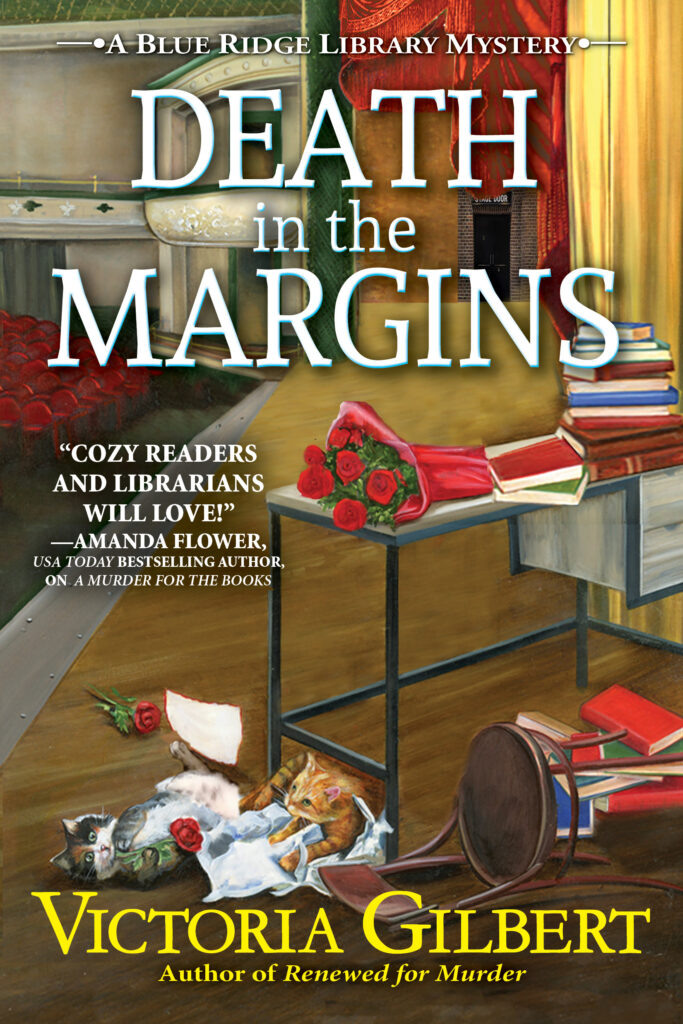 The theater is no place for murder—but a case of backstage betrayal drags library director Amy Webber into a case that could mean curtains in critically acclaimed author Victoria Gilbert's Blue Ridge Library mystery.
"Believable characters and a thorny mystery." — Kirkus

"When it all comes together and the killer is revealed, the climax is almost the best part of the story. I loved this and look forward to the next in the series. Highly recommended." – Any Good Book 
"This was a fun read with a surprising conclusion. The sleuth was well crafted and the supporting characters all add to the fun. I look forward to the next in series by this favorite cozy author." – Cozy Reviews
Coming This Year — Preorders available now!
A CRYPTIC CLUE — Book One in the Hunter and Clewe Mysteries
To be published by Crooked Lane Books July 11, 2023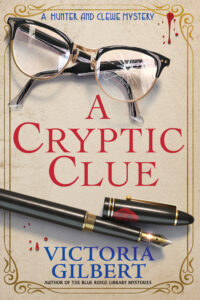 A retired librarian gets back to the books—and into a devilish murder case—in acclaimed author Victoria Gilbert's new series, the perfect literary adventure for fans of Kate Carlisle and Jenn McKinlay.

Sixty-year-old Jane Hunter, forced into early retirement from her job as a university librarian, is seeking a new challenge to keep her spirits up and supplement her meager pension. But as she's about to discover, a retiree's life can bring new thrills—and new dangers.
Cameron "Cam" Clewe, an eccentric 33-year-old collector, is also seeking something—an archivist to inventory his ever-expanding compendium of rare books and artifacts. Jane's thrilled to be hired on by Cam and to uncover the secrets of his latest acquisition, a trove of items related to the classic mystery and detective authors. But Jane's delight is upended when a body is discovered in Cam's library. The victim, heir to a pharmaceutical fortune, was the last in line of Cam's failed romances—and now he's suspect number one.
Cam vows to use his intelligence and deductive skills to clear his name—but with a slight case of agoraphobia, rampant anxiety, and limited social skills, he'll need some help. It comes down to Jane to exonerate her new boss—but is he truly innocent?
Reviews:
"A booklover's delight, A Cryptic Clue captivated me from the start. Credible characters, an absorbing mystery and fine writing make this a novel to put straight on your wants list." —Peter Lovesey, award winning author of the Peter Diamond series
"A successful series sure to delight traditional cozy readers for years to come."
—First Clue
"A Cryptic Clue brings Golden Age style detectives into the twenty-first century with a manor house, a reclusive millionaire, a body in the library, and a gaggle of suspects. Agatha Christie has some stiff competition in this new traditional mystery series by Victoria Gilbert. Move over, Miss Marple—make way for Hunter and Clewe!"
—Joyce Tremel, author of The Brewing Trouble Mysteries
"A charming new series from the always-entertaining Victoria Gilbert! Librarian Jane Hunter is a force to be reckoned with, and I can't wait to see what mysteries she and her enigmatic boss Cameron Clewe investigate in the future."
—Gigi Pandian, USA Today bestselling author of the Secret Staircase Mysteries
"When Jane Hunter, sixty-year-old former university librarian turned archivist starts a new job working for thirty-something Cameron Clewe, who is as agoraphobic and socially awkward as he is rich and handsome, she expects to find an interesting collection waiting to be cataloged. Instead she finds a body in the library. The victim is Cam's ex-girlfriend, which puts her new employer at the top of the suspect list. Having little faith that the police will look farther afield, Jane and Cam join forces to find the killer. With an interesting new crime fighting duo, a nice supporting cast and wide suspect pool, this well-paced and well-plotted mystery is sure to entertain."
—M.E. Hilliard, author of the Greer Hogan Mystery series
YouTube Review (The Honest Book Reviewer): Victoria Gilbert – A Cryptic Clue (Hunter & Clewe: Book 1) – Book Review – YouTube
Sampling of Goodreads ARC reviews:
"Whoa! A true mystery! So rare. A mystery is described as a jigsaw puzzle. It just takes finding all the pieces and placing them in order and the last few pieces seem to just fall into place. That is exactly what happens in this exceptional book."
"Yes I would recommend this book to any mystery enthusiast. You won't find yourself disappointed. It has everything you expect in a great mystery. "
"This is a classic cosy – body in the library of a big country house, with housekeeper, chef, gardener and other staff, the odd weekend guest/hanger-on, so necessary to round out the cast."