Book Two — SHELVED UNDER MURDER — is available in hardback, eBook, paperback, and audiobook formats everywhere books are sold. 
Published by Crooked Lane Books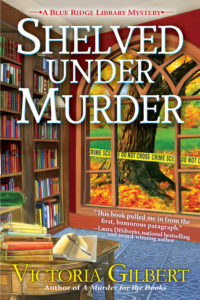 Autumn leaves aren't the only things falling in the historic Virginia village of Taylorsford—so are some cherished memories, and a few bodies.

October in Taylorsford, Virginia means it's leaf peeping season, with bright colorful foliage and a delightful fresh crew of tourists attending the annual Heritage Festival which celebrates local history and arts and crafts. Library director Amy Webber, though, is slightly dreading having to spend two days running a yard sale fundraiser for her library. But during these preparations, when she and her assistant Sunny stumble across a dead body, Amy finds a real reason to be worried.
The body belonged to a renowned artist who was murdered with her own pallet knife. A search of the artist's studio uncovers a cache of forged paintings, and when the sheriff's chief deputy Brad Tucker realizes Amy is skilled in art history research, she's recruited to aid the investigation. It doesn't seem to be an easy task, but when the state's art expert uncovers a possible connection between Amy's deceased uncle and the murder case, Amy must champion her Aunt Lydia to clear her late husband's name.
That's when another killing shakes the quiet town, and danger sweeps in like an autumn wind. Now, with her swoon-inducing neighbor Richard Muir, Amy must scour their resources to once again close the books on murder in Shelved Under Murder, the charming second installment in Victoria Gilbert's Blue Ridge Library mysteries, perfect for fans of Jenn McKinlay and Miranda James.
"Victoria Gilbert's clever, well-paced Shelved Under Murder shines at its heart—the character's relationships and the town they inhabit."
— Criminal Element
"The arts are well represented by the painters and Richard's work as a choreographer, adding a new level of interest to this small-town cozy series."
— Booklist
"Cozy mystery lovers will appreciate Victoria Gilbert's ability to create fun, memorable characters as well as a twisting tale of art deception focusing on both the past and present. Shelved Under Murder is a delight to read, and will no doubt leave fans wanting more stories from Taylorsford, Virginia."
— Manhattan Book Review
"A real page turner peppered with a host of interesting behind-the-scenes glimpses of the high stakes world of fine art. Check it out."
— Suspense Magazine
"While book and library lovers will of course adore the setting, the enjoyable characters, exploration of the art world, and intricate plotting are what will truly attract mystery fans to this delightful series."
— Kings River Life Magazine
"Victoria Gilbert has done it again and I want more and more (please Ms. Gilbert!) … am I allowed to give 11 out of 10 for a book?"
— A Wytch's Book Review Blog