WELCOME TO THE OFFICIAL WEBSITE FOR VICTORIA GILBERT
Author of traditional and cozy mysteries and fantasy.
Please look around and check out my books, blog posts, upcoming events, and other information.
Or use the contact form to get in touch with me. I welcome your questions and comments!
— Victoria
NEW and AVAILABLE NOW — Book Four in the Blue Ridge Library Mystery series — BOUND FOR MURDER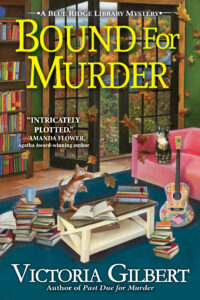 "The plot builds to a complex but satisfying solution. Cozy fans will hope Amy will return soon."
— Publishers Weekly
"As with Cleo Coyle's 'Coffeehouse Mysteries,' Gilbert's library mysteries…are darker than many cozies. The well-developed characters and complex issues will appeal to fans of Jenn McKinlay and Miranda James."
— Library Journal 
"Another deftly crafted mystery buff's delight by a true master of the genre, "Bound for Murder" is another unreservedly recommended addition to author Victoria Gilbert's 'Blue Ridge Library Mystery' series."
— Midwest Book Review
Quarantine "We're all in this together" gift — FREE eBOOKS!
I can't make my cozy mysteries free, but I do have two fantasy books that are free on all eBook platforms. Both are retellings based loosely on Hans Christian Andersen fairy tales, and are suitable for readers ages 11 and up. (Adults love them too!)
and