WELCOME TO THE OFFICIAL WEBSITE FOR VICTORIA GILBERT
Author of traditional and cozy mysteries.
Please look around and check out my books, blog posts, upcoming events, and other information.
Or use the contact form to get in touch with me. I welcome your questions and comments!
— Victoria
OUT NOW!
Book One in a new series, the Book Lover's B&B series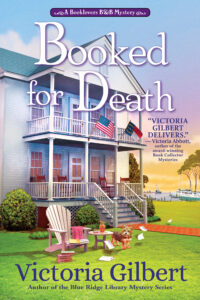 A book lover's B&B in an idyllic waterfront village becomes the scene of a grisly murder–and a ruthless battle between treachery and the truth.
"Gilbert ("Blue Ridge Library" mysteries) introduces an intelligent, mature amateur sleuth, and a shrewd elderly sidekick in the first in a character-driven cozy series. The leisurely paced mystery offers complex characters with well-developed backgrounds and motives. Readers of Ellery Adams's "Book Retreat" mysteries will appreciate this new series."
– Library Journal
"[A] charming series launch…Cozy fans and book lovers will be satisfied."
—Publishers Weekly
"Intellectually challenging…A solid addition to a popular cozy category."
—New York Journal of Books
"Historic Beaufort, North Carolina, is the beautiful backdrop for an ugly murder… A clever, sympathetic heroine and oodles of local color."
—Kirkus
"Booked for Death will book you into a delightful mystery that brings to life a charming town with a genuine feeling of community, the strength of friendship, and delightful characters." – San Francisco Book Review
"Gilbert…kicks off the Book Lovers B&B Mystery series with of the hallmarks of a cozy: a small town with lots of history; a gently paced plot; sympathetic, book-loving characters; and even a little dog." — Booklist
Click on cover for buy links.
Out Now:  The 4th Book in the Blue Ridge Library Mystery series, BOUND FOR MURDER.
And you can now preorder Book 5 — A DEADLY EDITION.
You can also now preorder Book 2 in the Booklover's B&B series, RESERVED FOR MURDER.
Click on covers for buy or preorder links.