I just received my paperback copies of SHELVED UNDER MURDER, which releases (in the paperback edition) on Tues., Jan. 8th from Crooked Lane Books.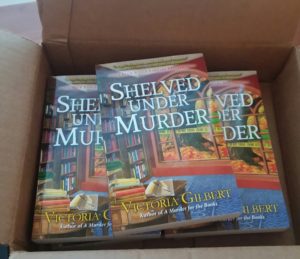 So if you prefer paperback to hardback, you can now get the PB edition! Buy Links here: http://www.crookedlanebooks.com/titles/shelved-under-murder/
I also want to remind everyone that book 3 in the series, PAST DUE FOR MURDER, will be published in hardback and eBook on Feb. 12th.  You can, of course, preorder it now: http://www.crookedlanebooks.com/titles/past-due-for-murder/
If you are an audiobook fan, both books one and two are out in audiobook from Tantor Media, and I've heard that PAST DUE will also be released in audiobook format!