Book FIVE in the Blue Ridge Library Mystery series.
To be published by Crooked Lane Books on Dec. 8, 2020.
Available in eBook formats and hardcover.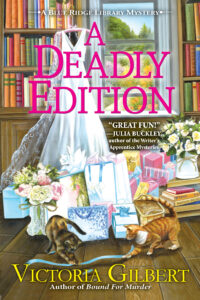 "'Til death do us part" could be closer than the bride realizes in Victoria Gilbert's tantalizing fifth Blue Ridge Library mystery.
The pursuit to acquire a rare illustrated book turns deadly, and on the eve of her upcoming wedding, library director Amy Webber is drawn into a web of treachery and betrayal that could derail her happy day–and maybe just claim her life.
Planning a wedding can be murder–sometimes literally. At a party celebrating their upcoming nuptials, Taylorsford, Virginia library director Amy Webber and her fiancé Richard Muir discover the body of art dealer Oscar Selvaggio–a bitter rival of their host, Kurt Kendrick.
Both had been in a heated battle to purchase a rare illustrated volume created by William Morris's Kelmscott Press, so suspicion immediately falls upon Kurt. Amy knows that Kurt has a closet-full of skeletons from his past–but she can't believe he's guilty of murder.
Amidst an avalanche of wedding preparations, Amy begins an investigation with the help of her aunt Lydia Talbot and the new mayor of Taylorsford, Sunshine "Sunny" Fields. Much to Lydia's
dismay, her boyfriend, art expert Hugh Chen, becomes convinced of Kurt's guilt and launches an investigation of his own. As the case hits painfully close to home, the stakes become impossibly high–and the danger all too real.
Praise for A DEADLY EDITION:
"A long-planned wedding is threatened by murder.
Blue Ridge Library director Amy Webber is about to marry the love of her life, dancer Richard Muir, when she becomes involved in yet another mysterious death, this time at a party Kurt Kendrick is hosting to celebrate the upcoming nuptials. Although Kurt's been a good friend to Amy, his activities have frequently skirted the law. Among the guests is art dealer Oscar Selvaggio, who's vying with Kurt for a rare William Morris handmade volume of Chaucer's poetry. When Oscar is fatally poisoned, Kurt is a suspect, but there are plenty of others who might have wanted Oscar dead. Amy's brother, Scott, is on hand to provide computer expertise, but she suspects he also does field work for a government agency and that her wedding is only part of the reason he's in town. Throw in a private detective who romances Amy's bestie, an inquisitive stranger who gives a large donation to the library, and members of Amy's own family with secrets to hide, and Amy soon finds herself struggling to find answers. Her research skills are certainly up to the task, but will they keep her alive long enough to say "I do"?
Endearing characters are further fleshed out in the library director's fifth mystery." — KIRKUS
Series Book Trailer: